Spring Is Here, Time To Start Moving!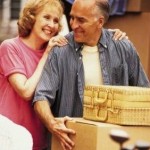 Winter has definitely decided that its time is up for this year. That means that Spring is here. Things are turning green and the birds in the trees are singing loud and clear. Everything seems to come to life in the Spring, even moving. More and more people are starting to move now that Spring is here, and that means that Summer is right around the corner. Summer means that moving season is here. It may be more difficult to find a good moving company in the Summer. If you need to move, then you may be better off doing it now.
Keeping things cool
With Winter gone, the temperature is going to rise. There are several ways to keep things cool, and several different things that you may want to keep cool including your head. Moving can get stressful, and the added heat just makes things much worse. Here are several ways to keep things cool moving in the warmer months of Springs and Summer.
Make sure that you have plenty of water on hand at all times. You may not realize it, but you are going to need to drink a lot more water when the heat gets turned up. Staying hydrated is one of the most important things that you can do if you are moving in the heat.
Try to keep your stress level down too. Moving is a challenge, but it is not really that difficult of a challenge. Keeping everything in a positive light will make moving a lot easier on everyone.
Finding a moving company
If you are going to hire a full service moving company, then you need to make sure that you have plenty of time in advance during the busier moving season. Moving companies will get swamped during Spring, and in the Summer, they will be even busier. If you are doing a last minute move, then you may be out of luck. You need to make sure that you have plenty of time for the moving company to schedule you in.
The best way to find a qualified moving company that you can trust is to, look online. Fill out one quick and simple form, and you will have several moving quotes sent right to your phone or email. This gives you the opportunity to choose which moving company best suits your individual needs. You will quickly learn how much it is going to cost to move, and you will also learn which moving companies are available when you need to move.
If you are going to be doing the moving yourself, then you will need to rent a moving truck. Moving truck rental companies can be very busy during the Spring and Summer months. Give yourself plenty of time to schedule your moving truck.
Once you get everything all squared away, it is time to get ready to move. If you chose the full service route, then you are pretty much done. If you chose the self service route, then it is time to start packing.